Barreled drinking water production
1-gallon Washing,filling,capping Production Line

The line is designed for plastic bucket cleaning, filling, capping production equipment. Since the introduction of the European countries, the production line of advanced and mature technology with a high degree of automation, adaptability, ease of operation, security, performance, etc., which advanced in a leading position in the domestic industry with similar products. The production line consists of linear continuous disinfection Methodist washing machine, automatic linear and linear filling machine automatic capping machine. The device is suitable for automatic filling four liters of pure water equipment, for a variety of special-shaped bottles, filling volume adjustable side continued, each filling valve can be adjusted, the technology level leader in the domestic industry with similar products.
---
YBYS-1 Pull Lid and Scrub Barrel Machine
Applies to five gallons, three gallons of recycled plastic barrel pull cover pre-brushing.

The main technical parameters
| | |
| --- | --- |
| Processing capacity | 200-300s/h |
| Power | 1.1kw |
| Dimensions | 800*800*1200mm |
| Weight | 11kg |
---
YQYGF Full Automatic Barrel Filling Production Line
¡¡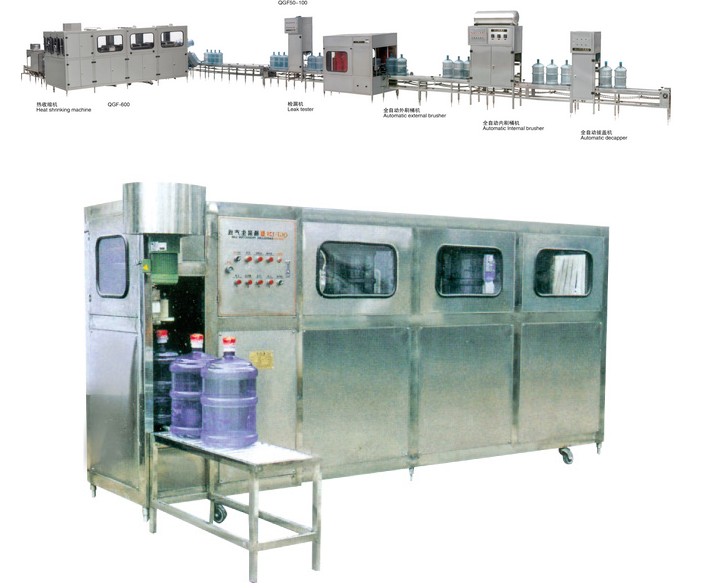 The equipment consists of washing, drip dry and capping one of the hosts, is suitable for 3-5 gallons of bottled drinking water bottling. Flushing process is divided into three processes: the alkaline liquid detergents, rinse outside - the disinfectant, outside wash - the pure water, rinse outside. Alkaline water, sterile water can be recycled. Washing filling and capping the entire process using a PC computer control, the equipment chain, signals, self-test and other safety devices.
Machine made ​​of stainless steel, in line with food hygiene requirements, reasonable structure, convenient operation, accurate, bottled drinking water is the ideal equipment for the production line.
The main technical parameters
| | | | |
| --- | --- | --- | --- |
| Model | Production capacity | Motor Power | Dimensions |
| YQYGF-120 | 120B/H | 2.8kw | 2700¡Á1100¡Á1650 |
| YQYGF-200 | 200B/H | 3.3kw | 2800¡Á2450¡Á2050 |
| YQYGF-300 | 300B/H | 4.5kw | 2800¡Á2450¡Á2050 |
| YQYGF-600 | 600B/H | 5.7kw | 2800¡Á2850¡Á2050 |