PE-CUP MAKING MACHINE AND EQUIPMENTS
YHSC-660A thermoforming machine
YHSC-660A PE-CUP MACHINE]
HSC-660A thermoforming machine is a combination of mechanical, electrical and pneumatic components, and the whole system was controlled bye micro PLC.It is operates with man-interface, which can works all bye itself. It combines the material feeding,heating,drawing,forming,cutting and transporting into one process.
DESCRIPTION
DATA
DESCRIPTION
DATA

Maximum forming area

250

×

580mm

Maximum width rage of sheet

300-600mm

Maximum forming depth

120mm

Maximum sheet roller diameter

710mm

Thickness range of sheet

0.2-2.5mm

Air pressure

0.7Mpa

Water consumption

10 Liters/min

Heating motor power

38kw

Power

3-N AC308V

±

15V

Rewinding motor power

0.55kw

Main motor power

4kw

Feeding motor power

2.2kw

Manufacturing speed:35mould/min

 

Air consumption2000 Liters/min

 

Weight

4000kg

 
 

Main machine(L

×

W

×

H)

3300

×

1650

×

2250(mm)

Dewinder(L

×

W

×

H)

1250

×

800

×

1900(mm)
It is used for forming PP、PS、HIPS、PVC、and PET plastic sheets, which can be widely used to produce all kinds of plastic boxes, containers and other plastic wares, such as ice-cream cups, milk cups chocolate package boxes, candy boxes and fast-fot boxes etc.
YHSJP-90 PE-CUTTING MACHINE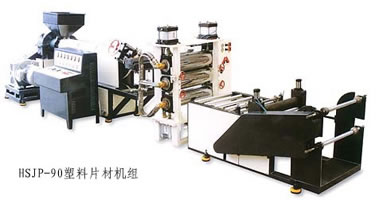 The machine is a combination of extruder,calender,rewinder and electric control console etc.the drum, screw stem, mesh changer and die head are made of high quality alloy stee(38CrMOAIA)withoptimum hardness, strong corrosion resistance and long operating life after nitrogen treatment. The head is adopted hanger-type branch pipe decteasing-style construction, so the flow passage is convenient for solution to flow without stagnation, and the thickness of products will be smooth and even. The felt wrapped circulation and cooling inside roll and bring a perfect effect. The temperature of die head. mesh changer and the drum separately controlled .all drive system runs synchronously.
It is used for produce various plastic sheets of PP,PS,HIPS,and PET etc,which can be widely used for produce plastic formed sheets, stationery sheets and adhesive tape with corrosion resistance ets.
DESCRIPTION
DATA
DESCRIPTION
DATA

Maximum output

115Kg/h

Diameter of screw stem

90mm

Thickness of die mouth

1.5mm

Diameter of roller

270mm

Adjust distance of roller

0-30mm

Diameter ratio

30

:

1

Width of die mouth

750mm

Face length of roller

800mm

Number of roller

3

Motor power of extruder

37kw

Heating power of drum

14.8kw

Heating power of die head

15kw

Heating power of mesh changer

5kw

Motor power of calender

4kw

Motor power of rewinder

2.2kw

Air pressure

0.7Mpa

Water consumption

10m/h

Air consumption

0.1m/h

Dewinder(L

×

W

×

H)

weight