| | | |
| --- | --- | --- |
| | Ultra-fine Powders Of Pulverizer | --- |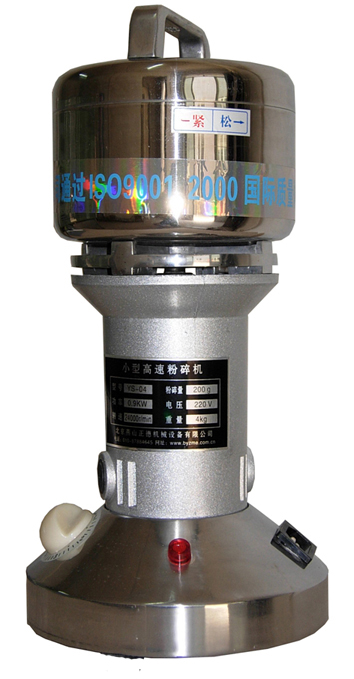 CTNYS-04
 
TECHNICAL PARAMETERS
| | |
| --- | --- |
| Model | CTNYS-04 |
| Power | 0.9KW |
| Voltage | 220V |
| Weight | 4kg |
| Outside dimension | 170×170×350(mm) |
| Discharge size | 10目-150目 |
| Main shaft speed | 24000r/min |
| Production capacity | 200g |
1, Principles:
This type of grinder blades are rotating at high speed using crushed dry material impact to achieve a general smash. It consists of grinding chamber, grinding blades, high speed motors and other components. Material directly into the grinding chamber, tighten the grinding chamber cover, boot crushing 1-3 minutes to complete.
2, Applications:
This series is a batch mill grinding, crushing capacity ranging from 20g-500g, so is ideal for pharmaceutical, food, chemical, agriculture, research institutes, universities, and other industries laboratory applications, and drug stores, pharmacies, clinics and even families to use.
3 features:
(1) small high speed, the series of models are in a small ultra high-speed motor, strong power to ensure that the grinding fineness and speed.
(2) Small size, light weight, compact structure, no vibration, no fixed, thereby ensuring the free to use in any situation.
(3) safety performance is good, no dust, low loss, clean-up easy, as the series of models is intermittent grinding, so the grinding chamber of stainless steel tanks are fully enclosed structure, to ensure the realization of the above properties.
(4) applies to a wide range of plant fiber, high hardness, high toughness materials such as herbs, minerals, minerals, and can achieve a good grinding effect.
(5) control performance is good, fineness can be adjusted, as can be open at any time, shut down operations, so the length of time by controlling the grinding fineness to achieve the control purpose.