The machine is driven by a series of cams, connecting rods and other accessories, which are applicable for wrapping big-sized cases such as multi-boxes, which driving principle is intermittent. Model BT-400C-I overwrappping machine is applicable for wrapping big sized box such as food box with biscuit/chocolate etc. using BOPP film with tear tape.
Features:
Standard attachment:
1. Feed cases using Angel- line conveyor belt for packaging machine connection
2. Falling film controlled by pneumatic pump
3. Tearing tape applicator assembly
4. Touch screen(PLC controller)
5. Automatic counter, Speed adjuster and temperature adjuster
6. Adjustable to different size(change the mould)
Also we can meet client's requested. Also the package material is printed film the photocell sensor will be provided .
Main specification:
Model

BT-400C-I

Package size

(100-300)x(50-200)x(15-80)MM3

Capacity

12-20packs/min

Voltage

Single phase 220V, 50~60hz

Motor power

0.75kw

Electric heating power

4kw

Overall dimension

2250mm×1100mm×200mm

conveyor size:1800mmx500mmx150mm

N.weight

1000kg
---
Model BT-400C-Ⅰ
Cellophane Paper (film) Box Type Tridimensional Packing Machine
OPERATION INSTRUCTION
---
CONTENTS
1. General description
2. Working principle and packing flow scheme
3. Illustrative appearance
4. Packing dimensions
5. Main technical parameters
6. Packing materials
7. Characteristics and structural features
8. Mount
9. Notice
10. Operation rule
11. Adjustment regulation
12. Fault and remove
13. Electric diagram
14. List of main electric apparatus
15. Pneumatic Routine Theory Graph and main components details
16. packing list
---
1. General description
This machine is a general equipment which is suited to 3-D Pack different specification's hard paper box with cellophane paper and OPP film. This machine is a new type whole automatic 3D packing machine which is designed creatively by ourself based on advanced technique of domestic and foreign same kind of products. It's main characteristic is able to pack compositely boxes with varions stack way. It's mainbody is a mechanic interlocking mechanism, using an advanced PLC touch screen control, compact structure, beautiful appearance , easy to operate and process automation.
This machine is suited widely to pack of middle and small box goods, for example, drug, health protector, nutriment, food, cosmetics, stationery, VCD tape, playing cards and cigarette. It has many functions which includes moistureproof, raising the additional value, level and decoration quality of products, is a ideal box type 3D packing equipment.
2. Working principle and packing flow scheme
BT-400C-I Cellophane Paper(film)Box-type tri-dimensional
Packing Machine applies a conveying belt and a box's additive advice to feed packing goods. A series of mechanisms, as drawing paper (film), cutting paper (film), folding, wrapping, heat sealing, trimming and output mechanism, are used for the packing of goods. The heat sealing is used to reach effect of sealing, moistureproof and decoration after the sides are folded.
Cellophane paper (film) and an unsealing thread with a printed picture or whole information laser mark are glued by adhesive tape, that has the functions of
easy unsealing and defend false.
The packing flow scheme is shown as Fig.1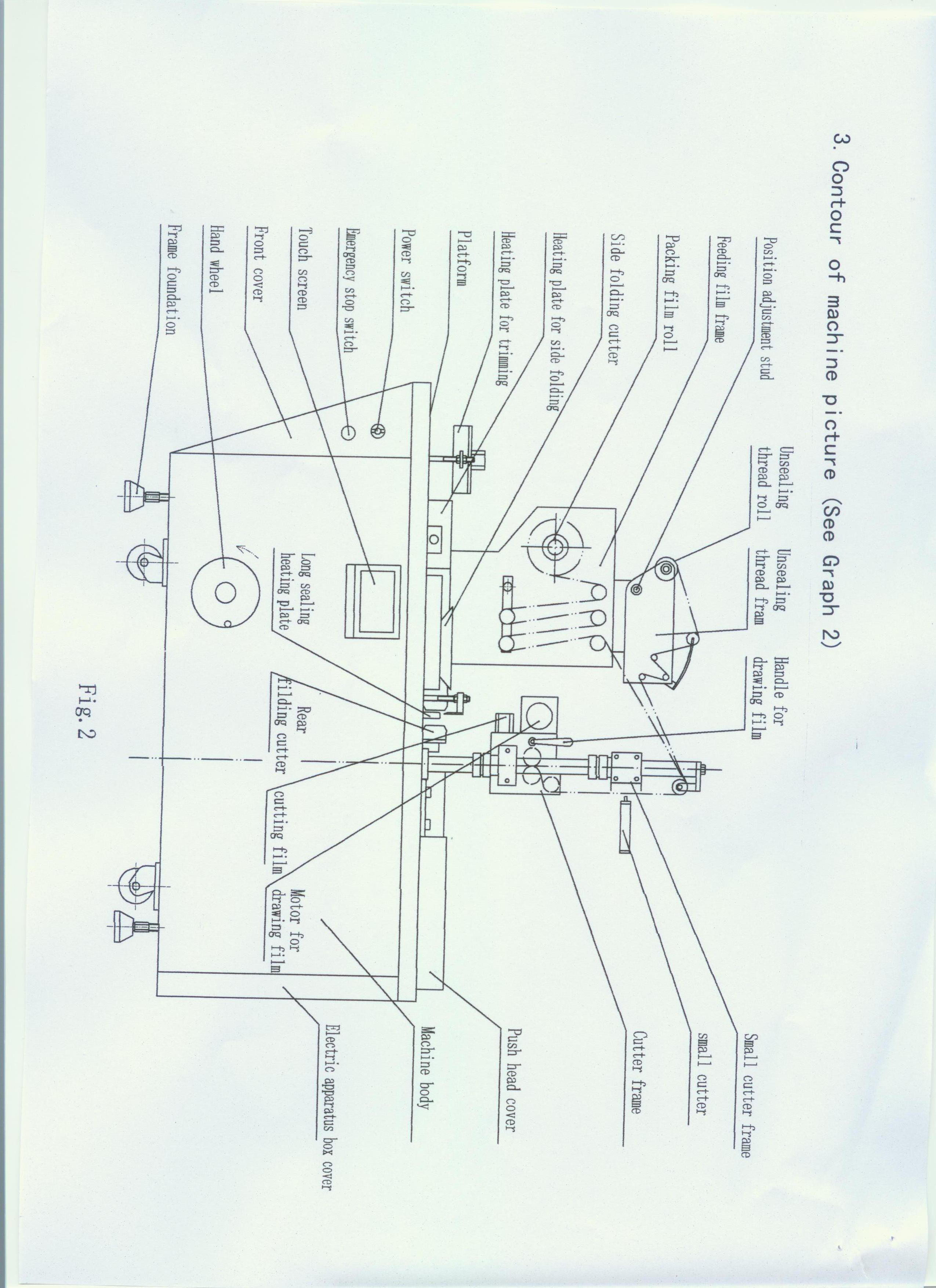 4.Packing dimensions
Length (L)……………………………………………………100~300㎜
Width (W)…………………………………………………… 80~400㎜
Height (H)…………………………………………………… 10~80㎜
5.Main technical parameters (see table.1)
Table 1
Capacity 15-30 packet/min
Power supply 220V 50Hz
Motor power 0.75Kw
Total power of heater 3.7 Kw
Overall dimensions (L)2050×(W)2400(860)×(H)1950
Weight 880㎏
Suitable area pack bigger box or multiboxes
6.Packing materials
a) Cellophane paper: be able seal by heat, moistureproof, 300#~600#
b) OPP thin film: thickness 22µm~28µm
c) Unsealing thread: various colour adhesive tape with width 1.2~3mm
Specification: transparent thread, single gold, full gold, bright gold. Transparent red letter, red letter on white bottom, golden letter on white bottom, laser defend false, laser hollow out and so on.
7.Characteristics and structural features
(1) Packing speed is adjustable: This machine applied frequency converter. The packing speed can be changed according to various requirement.
(2) Packing dimension is adjustable: When the dimensions and specification of packing goods are changed, mould's replacement and adjustment are required.
(3) Heat sealing temperature is adjustable: The heating plate's temperatures at every sealing mouth are all controlled by PLC. The heating temperatures can be set and kept automatically according to environment temperature outside.
(4) Additive advice: It is an intermittent additive advice. User can choice desk box or conveying belt additive by himself.
8.Lnstal lment
(1) After opening box, user should check carefully that the machine has or hasn't been damaged firstly, pay attention on machine's deformation, and prevent the machine fall on ground.
(2) This machine should be installed horizontally on cement ground in room. The
rubber plates with 10mm thickness and same shape are padded under foundation legs to prevent damaging base and position movement.
(3) Electric installation: Switching-on 220V (50Hz or 60Hz) single phase power supply, after that you must check the rotation direction of motor , because this machine can not reserve rotation. Correct rotation direction of the motor is that rotation direction of the hand wheel should be counter-clock wise rotation as viewed from the front.
9.Notice
(1) Read carefully this instruction before using this machine
(2) Operation and maintenance of this machine should be implemented by special person
(3) At every cam, swing bar of the machine should be filled HJ-20 type mechanical oil before start.
(4) Grounding at appointed position on label for safety
(5) Cleaning the surface and cover of machine by using soft cloth with water and cleaner at regular intervals to keep machine's clean
(6) If no use the machine during long time, cleaning the cutter, please. (use dimethyl benzene or ethyl alcohol)
(7) If the working state of the machine isn't normal, you must stop it at once and check
(8) Working environment: temperature +5℃~+35℃
Relative humidity 65~85%
10.Operation rule
(1) Preparation
1.1 Before start you should check strictly following:
a. Opening the rear cover and observe the electric box, check that connecting wire and apparatus avel are not loose or drop out
b. Chick that each mechanical fasteners are/are not loose, drop out and position movement of components.
1.2 Manual test: Put on the hand wheel, rotating machine clockwise and observing that each transmission parts are correct and normal or not
1.3 Electrification test: Switching-on power supply, after that you must check the rotation direction of motor, because this machine can not reserve rotation, The correct rotation direction of motor is that the rotation direction of the hand wheel should be counter clock wise rotation as viewed from the machine's front. (before normal working, the hand wheel should be taken off)
(2) Operation
2.1 Switch on power, the PLC screen is brighten. Light touch it at any place in the screen that go into operating interface.
2.2 According to the requirements in the operation instruction switch on every heater's switch and set up their temperatures. The temperatures of long sealing, left side sealing, right side sealing, upper trimming and lower trimming are about 130℃,120℃, 120℃,105℃ and 105℃, respectively.
2.3 If you use conveying belt, you should maintain definite packing goods on it.
2.4 Adjust the touch screen's frequency to between 8 and 15, and then single strike "run" button to start.
2.5 Single strike "STOP" button, switch-off power, clean the platform and every components (It the case of no switch-off power, touching every moving parts is forbidden),
11.Adjustment regulation
Any operator must obey this instruction. The standard procedure of adjusting
synchronization of this machine is:
(1) Adjusting film's feeding part.(adjusting cutter is included)
(2) Adjusting the sealing mouth of long sealing
(3) Adjusting the working state of side folder and folding cutter.
Simple explanation as following:
1). Adjusting of film's feeding part
1.1 Adjusting cutter frame's height: Adjusting the cutter frame's position from cutting plane to platform plane, this distance equals sum of half film's length and half packing box's height.
1.2 Adjusting film's position: Adjusting only two moving press disks on the left and right film's rolling shafts until suitable position.
1.3 Adjusting unsealing thread's position: If you want to change the position of unsealing thread, you need only to rotate the stud on the unsealing thread frame.
1.4 Adjusting the small cutter: If the cutting position of the small cutter isn't the position of unsealing thread, then loose the set screw of the small cutter is required, and then move the small cutter to the unsealing thread's position. If the position of cut-off of small cutter isn't appointed position, then loose the set screw on small cutter bed, up-down adjusting the cutter bed until the cut-off position of small cutter reaches appointed position.
2). Adjusting the sealing state of long sealing: Observe machine operation, if the long sealing can't be completed, them.
(a) Adjusting the upper folding cutter's position, making the upper film of box can be folded down smoothly.
(b) Adjusting the position and temperature of the scald seal plate of long sealing mouth, making the lower film of box can be folded up smoothly and can be sealed with upper film.
3).Adjusting the working state of side folder and folding cutter:
(a) When adjusting the folder, only to loose its installing screw, is required and more it left-right until the optimal position of side folding and screw down its set screw.
(b) When adjusting the folding cutter, only to loose the set screws of three cutter beds, is required more whole cutter bed left-right until the optimal position of folding, and then screw down.
12. Fault and remove (see table 2)
Table 2
Fault

Reason

Remove method

Unsmooth film

feeding

1. incorrect film's position

See this adjustment regulation 1.2

2. film can't be cut off in time

Adjusting the contact face of two cutters

3. there is impurity on the wall of lower film

Stop, clean impurity

Box block

incorrect box's position

Put box again and start
13.List of main electric apparatus(电器图纸)
List of main electric apparatus
| | | | | |
| --- | --- | --- | --- | --- |
| No. | Name | Model | Quantity | Details |
| 1 | Main motor | Y2-802-4 | 1 | |
| 2 | Mixed stepping motor(feeding film) | 110BYG2502 | 1 | |
| 3 | Driving machine | QD28P | 1 | |
| 4 | Synchronous machine(conveyance | 110TDY4 | 1 | |
| 5 | Electromagnetic Brake | DLD2/24V | 1 | |
| 6 | Electromagnetic Clutch | DLD2/24V | 1 | |
| 7 | Cross contactor | 3TB42/220V | 1 | |
| 8 | Power Switch | S-50-24 | 1 | |
| 9 | Mini-universal relay | MY2NJ24V | 3 | |
| 10 | Solid relay | HHGI-YO32F | 8 | |
| 11 | Electricity Pressure Converter | JBK3-63 | 1 | |
| 12 | Silicon pile | KBPC3510 | 1 | |
| 13 | Electricity Pressure Converter | 1.5KW | 1 | |
| 14 | Arrester | DZ47-60 1P 5A | 1 | |
| 15 | Arrester | DZ47-60 1P 10A | 3 | |
| 16 | Arrester | DZ47-60 1P 5A | 3 | |
| 17 | Arrester | DZ47-60 1P 3A | 3 | |
| 18 | Control Interface | GP37W2-BG41/24V | 1 | |
| 19 | Processing Unit | CPU 224 | 1 | |
| 20 | Extension Mould Panel | EM 222 | 1 | |
| 21 | Temperature Control Panel | EM231 | 2 | |
| 22 | Speed Mould | EM232 | 1 | |
| 23 | Dent light couple | EESX670 | 6 | |
| 24 | Knob Switch | LASO-AY-20/21 | 1 | |
| 25 | Emergency Stop | LASO-AY | 1 | |
| 26 | Thermocouple | 4500m/m | 4 | |
| 27 | Thermocouple | 2500m/m | 1 | |
| 28 | Heating Pipe | Φ12X68 450W | 10 | |
| 29 | Heating Pipe | Φ10X195 500W | 2 | |
| 30 | Cable connection Pole | JF5-2545 | 1 | |
16.Packing list
table 4
Serial number

Name and specification

Unit

Quantity

1

Model 400c-Ⅰ cellophane paper (film) 3-D packing machine

Set

1

2

Operation instruction

piece

1

3

Conformity certificate

piece

1

4

Hand wheel

piece

1

5

Hexagon socket spanner4、5、6、8、10(mm)

piece

Each 1

6

Spanner8-10, 12-14, 17-19(mm)

piece

Each 1

7

Adjustable spanner

piece

Each 1

8

Tip pliers

piece

1

9

Round pliers (inner, outer)

piece

Each 1

10

8-10,12-14,17-19

piece

Each 1

11

Hook head spanner 50~55

piece

1

12

Screw driver (I, cross)

piece

Each 1

13

Synchronous belt (Z=130,P=5.08,B=18)

piece

1

14

Oil gun

piece

1

15

K type thermocouple 2.5m , 3.5m

piece

Each 1

16

Heat tube for long, side sealing Ф10 500w

piece

2

17

Air Compressor(Prepared by clients)