Fruit Juice Drink production line
YY-DHT Series Electrothermal sugar Melting Boiler
YY-DHT series electrothermal sugar melting boiler melts sugar into syrup through electrothermal tube.
YY-TML Series syrup filter
The YY-TML series syrup filter is used to filter syrup.
YY-LB Series Preparation Tank
The YY-LB series preparation tank mixes syrup, edible essence, edible additive and water.
YY-ZR Series double-filter
The equipment is used for filtering liquid.
Continuous operation.
Easy to replace filtering screen.
Production capacity:2-10T/h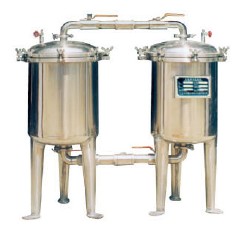 YY-TQ Series Vacuum Deoxidizing machine
The deaerator is one of the necessary equipment in fruit juice or fruit tea production line. It is mainly used for deaerating the homogenized juice under vacuum condition and to prevent juice from being oxidized and then to prolong the storing period of the juice.
¡¡
Main Technical Specifications£º
¡¡
| | |
| --- | --- |
| Product Capacity | 2500kg/h |
| Working vacuum | 0.6-0.09Mpa |
| Overall dimension (mm) | 1125x780x2360mm |
| Weight | 350kg |
YY-PS-3 Screw Pump
It is used to draw liquid material out by screw pole. The production capacity:2-10T/h

YY-LR Series Vertical Type Cooling & Heating Device
The device is widely used in milking and pharmaceutical industries. It is a necessary equipment for heating, cooling, heat insulating and sterilizing the liquid material. It has the advantages of energy saving, noise eliminating, acid resistant, crack-proof,and operating. It is also necessary equipment for drink production line.
YY-GB Series High Pressure Homogenizer
The machine is the necessary key equipment for cold drink and milk drink. The pressure covers 250kg/©O to 60kg/©O,and the productivity covers 500kg/m to 5000kg/m. The machine operate normality. The production capacity:1-10T/h

YY-SGS series Ultra Temperature instantaneous sterilizer
The factory adopts advanced stainless welding technology from abroad, selecting the fine polished stainless steel tube, which has improved greatly comparing with the former products we manufactured. There are two kinds of specification: manual control and automatic control. It is suitable for the liquid material, such as fresh milk, fruit drink, wine, soybean milk, as well as the sticky material (for example, sweat condensed milk) upon completing with high-pressure homogenizer. The information of other automatic UHT completing with aseptic packing machine is ready for you. The production capacity.1-10T/h.
¡¡
¡¡