Carbon Dioxide Drink production line
Brief introduction of YY-DCGF series Pressure Filling Machine

YY-DCGF three-in-one filling machine is suitable for carbonated beverage filling. This machine has three functions as washing, filling and capping into one, fully automated, appropriate for PET bottles, PET bottle carbonated beverage equipment. It can applicable to all kinds of bottle type, using card technology bottleneck, conveyor for bottles only to send chain height adjustment, easy to operate. Filling method uses a new type of micro-pressure filling. Filling faster, more stable, and similar devices, this machine offers higher yields and low failure rate. It has the advantage of cost-effective.
Model
YY-DCGF18-18-6
YY-DCGF24-24-8
YY-DCGF32-32-12
YY-DCGF40-40-15
YY-DCGF50-50-18
Production capacity (500ml)
5000-6000
6000-7000
8000-9000
10000
11000
Filling Precision

¡Ü¡À5mm

Filling Pressure
¡Ü0.4
PET Bottle Size
bottle diameter: ¦µ50-¦µ100, bottle height:150-310
Suitable Cap Size
Plastic screw cap
Power (KW)
3.1
3.1
5.6
7.5
9
Weight (kg)
3500
4500
5500
9000
12000
Overall Dimension (mm)
2400x1900x2300
2800x2100x2300
4200x2300x2300
5000x2800x2400
5900x3100x2400
Technical parameter of YY-GD Series Isobaric Filling Machine
Model
YY-GD-8
YY-GD-12
YY-GD-18
Production capacity
1500-2000B/H
2000-3000B/H
4000-5000B/H
Bottle/Can Type
glass bottle, PET bottle, pop-top bottle
Filling Pressure
0.2-0.3Mpa
Filling Temperature
2-6¡æ
Power
1.5KW
1.1KW
1.5KW
Overall Dimension
1060x1200x2000mm
1300x1150x1980mm
1520x1300x1820mm
Weight
1000KG
1300KG
1800KG
¡¡
YY-Cans production line
Purpose: The production line is designed for bottling carbonated beverage in different combinations to be applied in different glass bottles, cans, and PET bottles. The production line is composed of the washing machine, isobaric filling machine, sealing machine, and conveying system. Production capacities are 2,000 cans/hour, 4000 cans/hour, 6000 cans/hour.
YY-Gas Drink Production Line
Usage:This line is especially designed for carbon dioside drink.By all sorts of constiute if can fit for typical glass bottles,pop-top cans,PET bottles,All the line is made by washing machinery,converying system.The production capacity is (take 500ml as esample)2000B/H,4000B/H,6000B/H.
YY-Cold Drink Water Tank and Refrigerator
Characteristics:
The tank contains compressor using Freon F-22 aser frigerant, and temperature regulator for automatic controlling. It is necessary equipment for gas drink production industry.
Cold drink tank model

YY-LY2000
YY-LY3000
YY-LY4000

Compressor model

2F-10
4F-10
4F-10
Tank volume (m3)
2
3
4
Vapouring area (m3)
11
20
20

Refrigerating capacity (kg/h)

58520
117040
117040

Water output (kg/h)

2000
3000
4000

Output water temperature (

¡æ

)

3-8
3-8
3-8

Power (KW)

11
22
22

Overall dimension (mm)

2200x1200x1800
2200x1250x1800
2500x1500x1800

Weight (kg)

1230
1250
1500
YY-QJ-C Carbon Dioxide Filter
YY-QJ-C carbon dioxide filter is applied to improve purity of CO2 and separate impurity.
Production capacity (kg / h) :6-10kg / h
Dimensions Overall dimensions (mm): 500 ¡Á 410 ¡Á 1400
Weight Weight (Kg): 80kg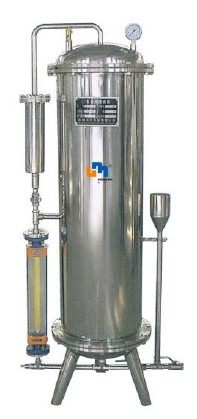 The TL type syrup cooler cools syrup to1-5¡æ through refrigerator.
YY-QHS Series Drink Mixer
Characteristics: YY-QHS series drink mixer is designed and made for improving the proportion of water, syrup and carbon dioxide. It adopts foreign advanced technology static mixer to lighten water layer, increase carbonizing time, assure mixing result. It adopts high quality water pump and SIEMENS electrical equipment and other parts to form complete automatic control system. It has coordinating action, beautiful appearance, convenient washing, high automatic level and other advantages. It is suitable for mixing all kinds of drink, such as soda water, fruit juice, cola and hard drinks.
| | | | | |
| --- | --- | --- | --- | --- |
| Model | YY-QHS-1500 | YY-QHS-3000 | YY-QHS-4000 | YY-QHS-6000 |
| Production capacity | 1500KG/H | 3000KG/H | 4000KG/H | 6000KG/H |
| Carbon dioxide content | ¡Ý2.5 | ¡Ý2.6 | ¡Ý2.5 | ¡Ý2.5 |
| Inlet temperature of the chilled water | 3-6¡æ | 3-6¡æ | 3-6¡æ | 3-6¡æ |
| Power | 1.1KW | 2.42KW | 3.1KW | 4KW |
| Overall dimension | 1200x1000x1800 | 1500x1000x2000 | 1660x1000x2000 | 1900x1200x2100 |
| Weight | 200KG | 350KG | 400KG | 500KG |
¡¡