Rice Series Machinery
---
The engine is matched with above 100 horsepower large tractors,using high box,circular arc gear transmission,used for paddy field,dry rotary tillage.
 
Produce name:1GQN-300 type rotary cultivator
Serial number:ZDJ-0006
Brand:BoNong
The tilling amplitude:3.00m
Rotary tillage depth:10-16cm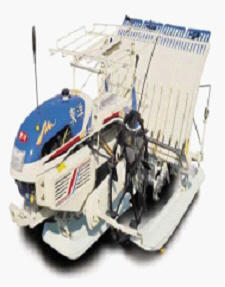 Product model: PF455S the spread of seedlings of 2 wheel 3 floating plate
Driving wheel: rubber lug wheel
Size(LxWxHcm): 245x148x84.95
Weight(kg): 170
Normal rated power(power / speed): 2.3/3,600
Fuel consumption(g/ps.hr): 303
Transplanting ability (mu/hour): 2-3
Line number: 4 rows of parallel type
Spacing (CM): 30 (fixed)
Point number: 3~5 strain (standard, regulation type)
Number (3.3 square meters each):70/80/90
Spacing (CM):14.6/13/11.7
HW type irrigation pump have two type:diesel engine drive and motor drive.the pump is a horizontal, single stage, single suction, volute mixed flow pump.Suitable for conveying water, river water, water or physical, chemical properties similar to water and other liquids. Transported liquid temperature not higher than 50≧.Widely used for farmland irrigation, industry and city water supply and drainage and so on.
Product name:NongTian irrigation pump
Brand:ChaoLiu
Product model:HW
Drive mode:manual
Flow rate:180-18700m3/h
Lift:5-17.7m
Caliber:150-1200mm
Product name:3ZC-1.4 type suspension type cultivator
Serial number:ZH-0004
Brand:BoNong
Supporting power:12-18HP four-wheel tractor
Productivity:0.4-1ha/h
Suspension type spraying machine has the advantages of compact structure, simple to use-reducing overhang-copy frame with baffle, a deep groove and the central beater spraying box(Porter type spraying machine)-washing trough, manual cleaner,liquid mixer and easy to use valve group(Porter type spraying machine)and the spray rod folding into the cab, accessibility(type Porter)-foldable spray bar open device can be customized-easy connecting additional devices.
Product Name: suspension type spraying machine
Spray tank capacity (L):600,800,1000/800,1000,1200/1000,1200/1000,1200
Control device:DPM manual,general electric device,disconnecting device,all electrical apparatus/DPMDPM,DPAE/DPAE
Circulatory system:intermittent/intermittent/intermittent/semi-continuous or continuous
Spray bar width(m):10,12,15,16,18/12,15,16,18/15,16,18,20,21/18,21,24
Spray bar type:Steel/steel(suspension device(optional)/steel/aluminum suspension device is optional
Spray bar folding:manual,hydraulic backward overlap/manual or hydraulic backward overlap/hydraulic,folded forward/hydraulic, folded forward
Spray bar is fixed:rod/bar/rod/pendulum
Product Name: DongYang HL6060 type rice harvester
Product type: HL6060
Size(LxWxH)(mm): 4500x1905x2280
Weight(kg): 2910
Speed: forward 0~2.43 m/sec
back 0~2.43 m/sec
Cutting line number:4
Speed changing gear:2 gear synchronous transmission
Cutting width: 1400~1500
Feeding depth control mode: electrical(automatic, manual)
Lodging adaptability:smooth cut 85 degrees,70 degrees reverse cutting
Engine name: DB33- ELMAC
Form: water cooled4 stroke4cylinder diesel engine
The total exhaust volume(CC):3268
Power/speed(ps/r.p.m):60/2600
Fuel oil:diesel fuel
Fuel tank capacity (L):65
From the drum rotational speed(r.p.m):rice, wheat:542,480.
Processing drum rotational speed (r.p.m): rice, wheat:1468,1298.
Grain unloading device (capacity: bag): inside the funnel:5, port of discharge:3.
The 7.5part(walking track width * length)(mm):450* 1520
Center to center distance(mm):1000
Transmission type: hydraulic stepless speed(H.S.T)
Straw discharging/processing device: chopper, dispersing device
Harvesting capacity (mu/h):+7.5
The machine is suitable for rice, corn, wheat and other grain drying, using coal or straw as fuel, to solve the problem of grain storage and sales.
Product Name:5HTJ-1.0/2.0 grain dryer
Number: GZJ-0001Products: Bonong
Efficiency: rice 20 tons /day
wheat 20 tons/day
maize 8-12 tons/day
Installed electricity capacity:5.4-8.3KW